ATEACHABOUT

"We can stay a bit longer and visit classrooms after giving workshops," Henry said. This personalized, on site approach should encourage teachers and administrators to ask questions and closely examine their sensory environments.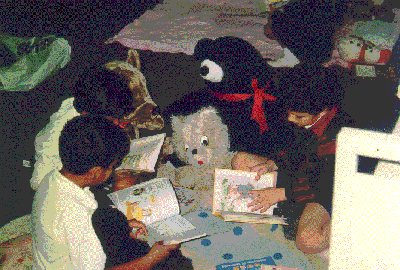 CIRCLE TIME...Students use stuffed animals during this exercise
to create sensory safe spaces for learning, attention and sharing.
Schoolwide sensory approach
Henry has found that once teachers have the information they need they are eager to implement new strategies and tools in their classrooms. However, their excitement and efforts can be dimmed by an administration that doesn't understand what they're trying to accomplish.
"How are we going to convince our administrators?" is a question Henry often hears from teachers.
One of her missions while going about the country is to convince administrators to listen to their teachers.
"Our teachers are wonderful. We need to give them a lot more support and recognition," Henry said. She advises administrators to give teachers school time in order to consult and collaborate, allowing people to easily "go through the stages of change."
"It's not about fixing something that's not working, but about problem-solving to make something functional," Henry said. "That's where (occupational therapy) comes in — it's about occupation. The students, the teachers and the administration all working together."
The Henrys hope to be on the road by the beginning of April, in time to attend the national occupational therapy convention in Seattle, Wash.

Click here to find your own sensory needs.
Additionally read about the tools developed by Diana Henry.
Reprinted with permission from Counterpoint. Copyright 2000 by LRP Publications, 747 Dresher Road, PO Box 980, Horsham, PA 19044-0980. All rights reserved. For more information on products published by LRP Publications, please call 800-341-7874, ext. 275 or visit Education Administration Online -LRP Publications' electronic network of education resources at http://www.lrp.com/ed.
---
Henry OT Services, Inc
4000 Pipit Place, Flagstaff, AZ 86004
E-Mail: rick@henryot.com