ATEACHABOUT goes on the road to teach schools sensory integration
Strategies help teachers include all students
By Cara Muroff
Special to Counterpoint

Last spring, Counterpoint brought you the story of occupational therapist Diana Henry and ATEACHABOUT, her traveling sensory integration program loosely based on the Australian Aboriginal idea of a walkabout.

As Henry and her husband, Rick Ruess, trek across the country - and on some occasions, the ocean - spreading information to students, teachers, administrators and parents, they've impacted dozens of districts and seen the program evolve.

Henry has spent more than 20 years as an occupational therapist, and she is founder and president of Henry Occupational Therapy Services Inc. The company's mission is to promote understanding and awareness of issues related to sensory processing, sensory integration and the sensory systems. She works to adjust the classroom environment so students can best absorb the information that is presented


Early success Henry also created two videos, called Tools for Teachers and Tools for Students, and a handbook called The Tool Chest for Teachers, Parents and Students which play a major role in her program.

When her program illustrating how to integrate sensory integration into the classroom was greeted with success, Henry hit the road. First, she traveled throughout districts in Arizona.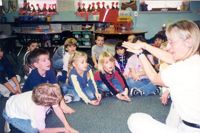 WARMING UP - First-graders a Lafayette (N.Y.) School district warm up their hand muscles before writing activities (Photo by Rick Ruess)

"It grew to working with the administrative level," Henry said of the program's early days. "I realized that if teachers would be using these tools, it had to be supported by an administration that understood."

And it continued to grow until school districts around the country heard about it and began requesting Henry to spend a few days on site at schools.

So Henry lived out of a suitcase, bringing a love of her work with her on airplanes and to hotels. But even though she was seeing beautiful landscapes and making real changes in classrooms, something was missing - her husband.

About three years ago, she and Ruess were sitting on top of a mountain in Arizona when he had the idea for ATEACHABOUT. They sold everything and have been on the road in a recreational vehicle since April 2000.

"The flexibility gives us the opportunity to meet people all over the country, all the time," she said. "Wherever we go, we finish our workshop and consultations, and always come back to our bed. Home is with us. We don't feel like we're missing anything. It's been incredible."

Since the launch of ATEACHABOUT, Henry has seen "an incredible evolution in the kinds of services we provide," she said. The flexibility of the RV allows Henry to delve deeper into problems and extend her services.

Individual needs

For example, she can spend more time getting to know the individual needs of a community.

She remembered one school in Orange County, N.Y., where she spent time talking to occupational therapists, the special education staff, parents and children before she even demonstrated her program.

"We could speak directly about the classroom, and this tied everything in together. It wasn't just in-and-out," Henry said. "It is so important to address what their needs are. I have them tell me about the community and the challenges."

And she can make unplanned stops. When Henry was in Syracuse, N.Y., about 40 people were closed out of a session she held. One of these people was an occupational therapist rom LaFayette, a neighboring school district. The OT and her school principal asked her to hold a mini-in-service on her way out of town - only about 30 miles down the road. She happily obliged by presenting some demonstrations and visiting some classrooms. Henry can reach more people in this way than she ever thought possible.

But she doesn't just eat and run. Almost every place she has stopped has asked her to return. For example, she visited a school in Bedford, Mich., in August whose principal asked ATEACHABOUT to come back a few months later. Coincidentally, Henry had scheduled an October visit to a school in that same district.


So she arrived a day early to catch up with the first school and see exactly how the attendees integrated the workshop into the classrooms. Henry took photographs to post on her Web site to illustrate the effectiveness of the workshop.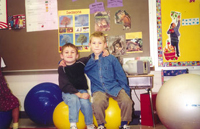 HAVING A BALL - These students at Smith Road elementary School in Bedford, Mich., sit on Chair Balls, which are good for the body, posture and help 'take the wiggles out.'
Using space
Now that her mission is mobile, Henry can spend more time helping people apply what they learn in her workshop. She has a hand in designing the actual sensory safe spaces, not just telling people about them.
In New York and in Michigan, Henry spent time looking at the classroom environment so teachers could appropriately design spaces. Based on the 1977 work by J.C. Pierce The Magic Child and adapted from presentations Henry's OT colleagues E. Richter and P. Oetter, she has devised ways to integrate four different kinds of sensory safe spaces into classrooms and homes:
* Womb Space: Students use this space to be alone in a quiet setting. They can regroup under low lights and weighted blankets or in a tent while listening to soft music to prevent "sensory overload."
* Mother Space: This space acts as a library nook, where two students can share space and a book with one another quietly. Can also be used to experience Stanley Greenspan's "FLOOR TIME" concept.
* Brain Power Space: Most classrooms have this already, Henry said. Groups at a table or individuals at their own desk can spend time here during interactive thinking.
* Kid Power Space: This is where children can challenge themselves against gravity, Henry said. It's a place where kids can have sensory motor opportunities to assist in self-regulation of behavior and arousal levels.
In her travels, Henry notices more and more the elimination of recess or the reduction in physical education time. She was in Georgia when she learned that P.E. was no longer mandated - it was to be instituted at a principal's discretion.
"They felt kids need more time to learn in the classroom," Henry said. "My experience and background are that many kids need sensory motor time and recess to jump and climb and swing, and to have time with friends."
So she asked herself how to put those activities back in the classroom. The Kid Power areas need to be safe and usually involve mats in a corner, with barrels, mini trampolines, weights or therapy balls for students who get "the wiggles," Henry said.
Many teachers question the application of these ideas because classroom space is so often an issue. That's when the site visits really come into play.
"When I first start taking about this, teachers said, 'We don't have the space,'" Henry recalled. "But when I go in there, and when I look at how space is used, I find the teacher's desk is piled underneath and on top, and more frequently than not, they're not using it. They use it for storage."
So she then speaks with teachers and administrators to develop opportunities. They might design cabinets or cubbies for the teacher to store those same materials that are on the desk, remove the desk and use that area as a Womb Space.
"We're really working with what is there already," she said. "It's good to have dreams about what would be ideal. My workshops always start by saying, 'Suspend your disbelief. What would you ideally love to do in class, home, district, etc.?' and then realizing that we can work with this."

ON THE ROAD - Diana Henry and Rick Ruess stand in front of the recreational vehicle that serves as their Ateachabout home. (Photo by Joe McGraw)

Around the world

The freedom of her moving office and small staff - just one secretary - allow Henry to take ATEACHABOUT overseas. She has made presentations in The Netherlands, Germany, England and Canada, and taught an occupational therapy workshop in France last September.

"I had 200 people in my workshop getting up and doing the shakes and wiggles," she recalled. "At the end, we had a booth and people came up. In speaking with them, I realized we are on the right track."

"This is really a universal goal," Henry continued. "To integrate this into the community - to take it away from being isolated in a medical format and give information to the layperson."

While in France, she visited a school that was in the middle of shifting from therapy in isolated clinics to therapists making site visits to classrooms. She was able to offer some insight that might ease the transition.

But she doesn't just present her ideas. Henry has been gleaning techniques from other countries to integrate them into ATEACHABOUT. In this way, she is constantly changing and improving the program.

She highlighted differences in Germany, for example, where kindergarteners learn more about art, music and sharing than they do about writing at a desk.

"Much of the school system there really acknowledges the importance of play and early sensory motor for children," she explains. "Here, there is such a push for kids to have better test scores. Preschool kids write at a desk, but kids' hands aren't ready for that yet. They need to be vertical and play."

New challenges

The inconsistencies between states and also between districts in the same state challenge Henry. The Individuals with Disabilities in Education Act is interpreted differently everywhere she goes. For example, two side-by-side districts in Michigan have totally different therapy procedures - one uses in-class therapy and one does not.
In Arizona, also, districts have varying degrees of resources and levels of commitment. Henry does not attribute success of her programs to wealth in a community, however.

"In some districts that are wealthy, you'd expect there to be more programs, more opportunities for kids, and parents more involved," she said. "But that's not necessarily true."

Henry cited one inner city school district in Arizona that was in a low-income area. After presenting the workshop for teachers, she wanted to do one for parents.

"The first response was that these are poor parents, uneducated, and don't speak the language," she said. "But I started it and had incredible success. Just because they don't speak English doesn't mean they don't care and are not intelligent. Not only did they come, but they brought aunts and uncles and cousins."

She credits success stories such as that one to teachers who are supported by the administration.

"When they are really honored as teachers, teachers have more opportunity to be creative and to develop programs that meet their needs," she said.

"Teachers really want to help the kids, and Rick and I spread the word around the country - the teachers really are doing a great job and they wouldn't be in teaching if they didn't care about kids."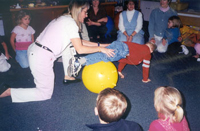 BUILDING STRENGTH - Diana Henry works with a student on the ball to help strengthen the muscles of the neck, back and shoulders (Photo by Rick Ruess)
On the road
And she attributes the success of ATEACHABOUT to her husband.
"He's really been the pivotal reason why I could do this," she said. "We've had a lot of fun together, we've seen parts of the country I'd never been. And people everywhere have been - 99.9 percent of the time - wonderful."
Henry and Ruess even use their time in the RV parks to spread their message about the importance of sensory integration. She said they meet loads of people in the parks, and everyone knows someone who knows someone on medication. She uses this time to instruct people on how to give children "the sensory diet their bodies need," instead of always resorting to medication.
Another one of her missions is to maintain contact with the people she meets and presents the programs to.
"A lot of teachers have started new programs as a result of this, and we've been able to help network people together," Henry said. "It makes the program grow that much bigger. I've had people ask, 'Can you train us to do ATEACHABOUT?' Maybe we'll have a caravan."
For more information on Diana Henry's programs and services, visit her Web site at www.ateachabout.com, e-mail her at diana@henryot.com, or call (888) 371-1204.
---
Henry OT Services, Inc
4000 Pipit Place, Flagstaff, AZ 86004
E-Mail: rick@henryot.com